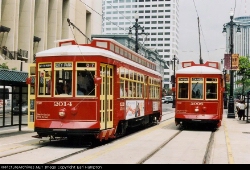 Welcome to the RRPictureArchives.NET contributor site of Earl Hampton.



My name is Earl Hampton and my main interest is the New Orleans streetcar system. I actually have a book recently published by Pelican (here in New Orleans) called "Streetcars of New Orleans 1964-Present". If anyone would like a signed copy, just email me for details. Secondary interests are model railroading and railfanning very occasionally. I work for CSXI and basically am bored with UP, more UP and even more UP. My modeling skills are limited to operation, what's scenery? I model Gentilly yard in New Orleans around the time of my hire date, 1980. If anyone has any questions about streetcars or rail operations in New Orleans, please email me. Glad to respond. Hope everyone enjoys my photos!



You may browse my collection of pictures via the menu located on the left hand side of the page. I hope you enjoy the collection and thanks for stopping by!
Note: This site is best viewed in Internet Explorer 6.0 or above.
Select one of the links from the menu on the left to begin browsing the collection.